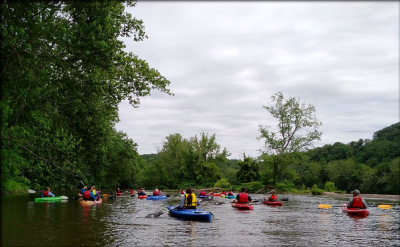 Sponsors: DRGP, PA Delaware Canal Park, NJ D&R State Park
$20 per person Event Fee
Event Location
Delaware and Raritan Canal State Park and Delaware Canal State Park
Event begins at Prallsville Mills- 33 Risler Street, Stockton, NJ 08559
Event Details
10:30 am – Participants should arrive at Prallsville Mills- 33 Risler Street, Stockton, NJ 08559 so we can start right at 11 am.
11 am – 8.5-mile bike ride departs from Prallsville Mills, travels south into Stockton, NJ and over the bridge to PA Delaware Canal State Park. We will bike to the Tohickon Creek Aqueduct and back down to Bulls Island Recreation Area.
12:30ish – Bike ride arrives to Bulls Island for lunch break (restrooms are available at this location), bikes will be are stored securely in the park maintenance area until they can be picked up by participants at the conclusion of the paddling portion of the program.
1:30 pm – 3-mile paddle portion at the Bulls Island Boat Launch into the canal. Program begins with 30 mins. for paddle instruction, adjusting boats & fitting life vests.
3:30 pm (or likely a bit sooner because we are only paddling 3 miles!) – Paddlers land @ Prallsville Mills, then drive themselves back up to Bulls Island to pick up their bikes.
IMPORTANT INFORMATION:
Participants must provide their own bicycle and helmet is REQUIRED.
Kayak, life jackets and paddle will be provided as part of registration fee.
We have 10 solo kayaks and 2 tandem kayaks available. Tandem kayaks will be first come, first served.
Children must be 12 years or older and accompanied by an adult.
Participants must bring their own packable lunch/snacks and water (must be carried by participants on bike ride) or PREORDER lunch for a 12:00 pickup from the Lumberville General Store, www.thelumbervillegeneralstore.com
$20.00 registration fee
If you have any additional questions, please contact Cindy at This email address is being protected from spambots. You need JavaScript enabled to view it.